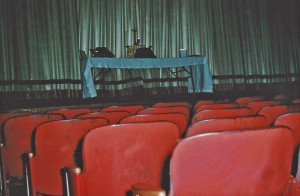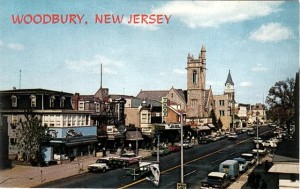 Our Humble Beginnings…
While rummaging through boxes in the basement of the Infant Jesus Parish rectory, I came upon an envelope that was browned with age. Beautifully handwritten on the outside of the envelope was "St. Margarets' First Mass in the Wood Theatre – June, 1961 – Joseph Rogers, Oak Valley".
Just like a child anticipating a birthday card with a surprise inside, I opened the envelope to explore the contents. There I discovered a Kodachrome transparency (color slide) that was faded from time, but still readable when held up to a light source. It was an image of a makeshift altar on the stage of the Wood Theatre in Woodbury. This was a piece of our history, captured on film; our very first parish Mass celebration!
The parish of St. Margaret Mary was established on June 10, 1961, by order of His Excellency, Archbishop Celestine J. Damiano, then Bishop of the Diocese of Camden. Father William L. McKeever was appointed as St. Margaret's first pastor. When the parish was first established, temporary arrangements were made to hold Mass on Sundays in the Wood Theatre. After six months, however, these facilities were no longer available. Through the kindness of Monsignor Paul Fairbrother, pastor of St. Patrick's Church, Mass was then held in the cafeteria of St. Patrick's School in Woodbury.
Today, our parishioners enjoy access to two beautiful churches for Mass celebration. Thanks to the hard work and dedication of a long line of priests, sisters, and parishioners, our parish has come a long way from the stage of a movie theatre in Woodbury, New Jersey.
Steve Graham